Hartmann Schedel
Nürnberg 1440 - Nürnberg 1514


The medical doctor and humanist Hartmann Schedel (1440-1514), grew up in Nuremberg and first studied liberal art in Leipzig. In 1463 he went to Padua together with the humanist Petrus Luder, to study medicine, Italian, Greek and Hebrew. In 1466 he returned to Nuremberg as a medical doctor and settled as the Nuremberg town doctor.
From 1470 he lived in Nördlingen and from 1477 in Amberg. In the early 1480s Hartmann Schedel moved to Nuremberg for good. He was a prominent member of the Nuremberg circle of humanists around Pirckheimer, Hieronymus Münster and Konrad Celtis. His comprehensive private library was among the most important of his time, not only because of the books themselves, but also because of its numerous prints, miniatures and graphic sheets, which Schedel used to add to his books.
After his death the collection entered into the property of Duke Albrecht V of Bavaria via Johann Jakob Fugger, and has since formed the basis of the Bavarian State Library in Munich. Hartmann Schedel became famous for a world chronicle entitled 'Schedelsche Weltchronik' in his honor.
It is a world history containing humanist historical articles, and was published in Latin and German by Anton Koberger in Nuremberg in 1493. It was known as the largest undertaking in the book-making industry of that time and with its over 1800 woodcuts is one of the most richly illustrated incunables ever made. The high-quality artistic woodcuts were made by the German painter and woodcutter Wilhelm Pleydenwurff and his father-in-law Michael Wolgemuth in whose Nuremberg workshop Albrecht Dürer was an apprentice until late 1489.
The lasting fame of the world chronicle was mainly based on its opulent artistic style, in a unique way text and illustrations formed a well thought-out, balanced unity, complementing each other.
Among the splendid illustrations are numerous cityscapes, which are of particular interest because - alongside pure fantasy vedute - they contain the first authentic views of German cities.

Publius Ovidius Naso
Fasti
4,218 $
Details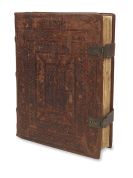 Gullielmus Duranti
Rationale divinorum officiorum
1,110 $
Details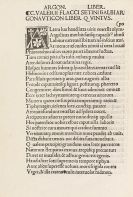 Valerius Flaccus
Argonautica
1,110 $
Details